The importance of good interior design
Our award-winning Yorkshire interior design team hold more than a decade of experience working across the residential interior design and commercial interior design sector. We have worked on high end residential homes and commercial hospitality venues including the award wining 5 star hotel Manor House, Lindley.
We work with our trusted architectural technician and look at interior design layouts, concepts and specifications. Robinson King can look at a tailored interior design service to suit your project whether it is large or small.
Let's discuss your project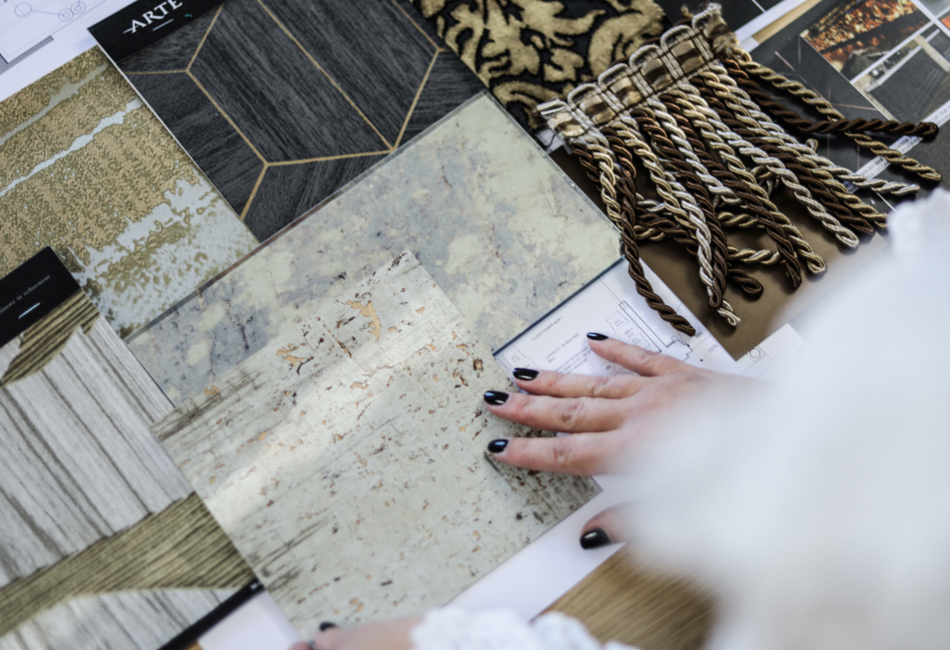 Design philosophy
Good interior design can transform a space and the way the occupier feels about it, it starts at the beginning and it is worth getting it right. Our interior designers start by looking at the space planning and design concept and use our technical know-how to plan the layouts and fit outs. We look at incorporating interior details, review how the interior architecture will work and utilise our extensive knowledge of fabrics, wallpapers and specialist finishes. We start with a design concept, we develop that concept into a scheme and then we turn that scheme into reality.
COMMERCIAL INTERIOR DESIGN
Robinson King Interiors work both jointly with Robinson King Joinery and independently allowing us to work on smaller one-off projects right through to full commercial interior schemes and commercial fit outs. We have recently completed works on the award winning Manor House, Lindley. Our Creative Director, previously an in-house interior designer for Principal Hotels, a national four and five-star hotel company has design experience across the hospitality interior design sector covering a number of applications including hotel design, bar design, restaurant design and venue design. When looking at commercial interior design we always keep the clients' end goals at the forefront of our minds, we appreciate the importance of not only achieving an interior that works on a practical level but that also achieves an ambience and aesthetic that sits in line with the company's brand identity.
RESIDENTIAL INTERIOR DESIGN
We understand that the emotional connection to your home interior is important. We encourage clients to consider the emotional and practical needs of a space as well as their aesthetic aspirations when designing their homes. We love to create stunning residential interiors packed with personality, but it is also important to get the basic layout and requirements right which can sometimes be overlooked. Our lead designer has experience of working across the high end residential interior design sector working for Harrogate based companies for a number of years. We offer flexible residential interior design services whether it be a remote digital interior design package or a full bespoke interior design service (see FAQ's for more info).
Interior Design FAQs
This service is for residential design (or smaller commercial projects subject to fee increase) and is great for people that either live too far afield for a home consultation or who have busy lives and prefer to work remotely with a skilled interior designer. The design work is all done digitally and emailed to you. We liaise via online platforms such as skype and Pinterest and it fits in and around you. Our designer has experience in working for the UKs leading online remote interior design company.

The remote design service fee starts at £525.00 (plus VAT) per room.

Here is how it works:

Consulattion phase
You send Robinson-King Interiors as much info as possible and we go through your photos, room measurements floorplans, any design inspiration imagery you have, any key pieces you would like to keep or include, the more info you can send the better for us.

Once our designer has digested the information and the initial client brief from you we offer an optional skype call (or phone call if you prefer) so we can talk in more depth about your design aspirations face to face

Concept Design Phase
Once a clear brief has been established we will produce a concept board which will be emailed over to you. The purpose of the concept board is to act as an anchor for the scheme(s) though not specific it will reflect the overall design concept, style and aesthetic that the finished design will encompass.

Design Visualisation Phase
Once the concept board has been approved our designer will move onto a more detailed design scheme for you. We will collaborate on a Pinterest board and show suggested furniture, paint colours, finishes, fabrics etc. We will look at the room general arrangement layout and produce a full design scheme based on the agreed design concept.

What your package will include
Your personal design package will be emailed over to you once complete and will include the following:
- Concept Board
- AutoCAD scaled Floorplan/GA Layout
- Rendered scaled floorplan/GA layout
- 3D Visual/rendered elevation
- Design Recommendations / considered design notes and professional advice for you to go forward with your design

Its over to you
Once you have the design scheme it is over to you to implement it and bring it to life!
As no two projects are the same in terms of detail and scope of work we like to offer flexible and realistic pricing. 

For commercial projects and larger projects which use our combined services price is project dependant so please get in touch.

For residential design services prices are as detailed below, your project requirements often dictate which package works the best.

Home consultation: £160 (within a 10 mile radius)
This allows us to have a look at the space and surroundings, note any design considerations, take any required measurements and have a detailed chat about you, the way you live and your design aspirations for the space. You may just want to use this as a standalone service to get some initial expert advice from our designer which is fine.

Project Rate: Starts from £575 for one room, £899 for two rooms (dependant on project size/requirements)

This would provide you with a cohesive design proposal and give you (per room):

1 x Joint Pinterest Board (optional but a great collaborative tool)
1 x Concept board 
1 x GA Layout board
1 x Design Visual Board
Specification
Proposed Wallpaper, Fabric, Finishes Samples

After the initial consultation we would start by working up a design concept, once this has been approved we then move on to a more specific design

Daily rate: £250

The hourly and day rate would cover any instances where you would like a dedicated service, accompaniment to design outlets etc and hourly design work where the project package is not selected, or requirements fall outside of this.

(prices quoted are subject to VAT)
As they say, if you think it is expensive to hire a professional just wait until you hire an amateur. Using an interior designer can save you money by getting it right the first time, avoiding costly mistakes and increasing the value of your home or commercial property. When you employ a skilled interior designer, you are paying for somebody to use their experience, expertise and creative abilities to maximise the interior potential of your space. A good interior designer will be able to easily interpret your brief, tease out what your design goals are and be realistic about what can (and cannot) be achieved by looking at the space as a whole. They will consider budget, physical constraints and space planning as well as relying on their extensive knowledge of decorative finishes. Using a designer means there is a methodical approach working from initial brief, to concept to completion thus taking away worry and uncertainty from a client.
Robinson King Interiors offers a flexible service which is client lead and project based. Having all related trades in-house means we have the capacity to work on varying projects from one-off room designs to full design projects and fit outs.

We take a holistic approach to interior design. If you want a new media unit or wall panelling, for example, you can work with our interior designer to make sure the whole room works in a cohesive fashion. Where a traditional interior designer may look at the decorative finishes, curtains, colours etc they may not always consider the more detailed design details which hold a space together and underpin the design foundations. We don't look at details in isolation, we look at the whole story and make sure the design details make sense. We use AutoCAD and work closely with our nominated architect where required.

For larger projects, by working in conjunction with our sister company Robinson Property Services we are able to offer a full service covering not only the interior design and bespoke joinery but also full building services where a project requires it.

In essence, we can do as little or as much as you desire.